DESIGNER BOOKBINDINGS

As the title implies, I am a bookbinder who designs his own leather artistic books, and then does all the work - sewing, new boards, silk endbands, leather over the boards, and design in inlays or onlays. That artistic interpretation, whether somewhat traditional, or abstract, or in some other imaginative way, reflects the content of the book. The book might be old, or from a private press, or emotionally special. But in my view, in this artistic case, you should be able to tell the book by its cover as you can see from the examples below. Click to enlarge.
| | |
| --- | --- |
| The photo on the right is a signed copy by Robert Frost. I bound the book in full leather, Cambridge style binding, with handsewn silk endbands. It is a traditional style binding except for a sprinkling of gilt and green leaves, an homage to Frost, on both covers and the spine. A clamshell protective box is also pictured. | |
Notes on a Yacht Voyage To Hardanger Fjord and the Adjacent Estuaries.

The geography of the Western fjords of Norway is so special that it deserved this literal scenic view—fjord of aqua calf, pieces of goatskin for the rugged mountains, and a dark sky with diamond/stars. Protected in a clamshell box.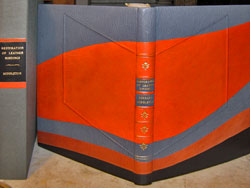 Bernard Middleton, a famed British binder whose bookbinding library is now housed at the Rochester Institute of Technology, wrote a fine book on Restoration of Leather Bookbindings. It is definitive enough, and he signed my copy, so I executed a series of grey, brown and orange flowing horizontal lines across both boards and the spine. You can also see, under the leather, the outline on both boards of an open book that converges with the gilt designs on the spine, to suggest the more traditional book that Middleton encourages us to restore. With handmarbled endpapers, Japanese silk endbands, and a clamshell protective box.